Just like the famous prize-fighter Jack Dempsey, Jack, a 7-year-old Appaloosa gelding also known as Doc's Unseen Goer, is a tough contender. Born at the Project Stable Foundation, a therapeutic riding center near Ft. Lauderdale in Southwest Ranches, Florida, Jack was the third foal born to a mare used for therapy, and a total surprise.
The mare had been bred but, after an ultrasound and manual palpitation, it was determined she wasn't pregnant. But, tucked away behind her pelvis was a foal growing undetected by veterinary diagnosis and surprisingly, months later, Sandy McCartney, director of Project Stable, went out to feed one morning and there stood Jack.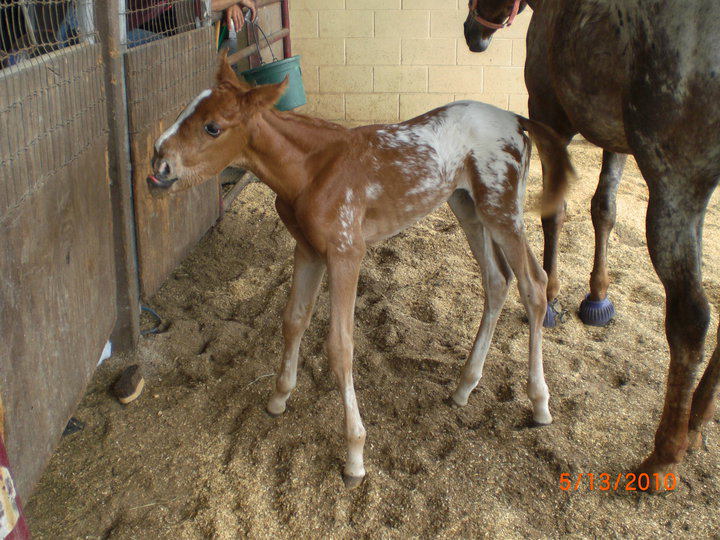 "He looked normal until you noticed that one whole side of his nose was smooshed in," she said. "Jack was born with a condition called wry nose (or wry mouth, as it is sometimes called.) It's not genetic. The baby was situated under the mare's pelvis and the vet couldn't see it. His nose got smooshed in the process and he was born without cartilage in his nose. It turned out that he was breathing though just a pinhead-sized hole."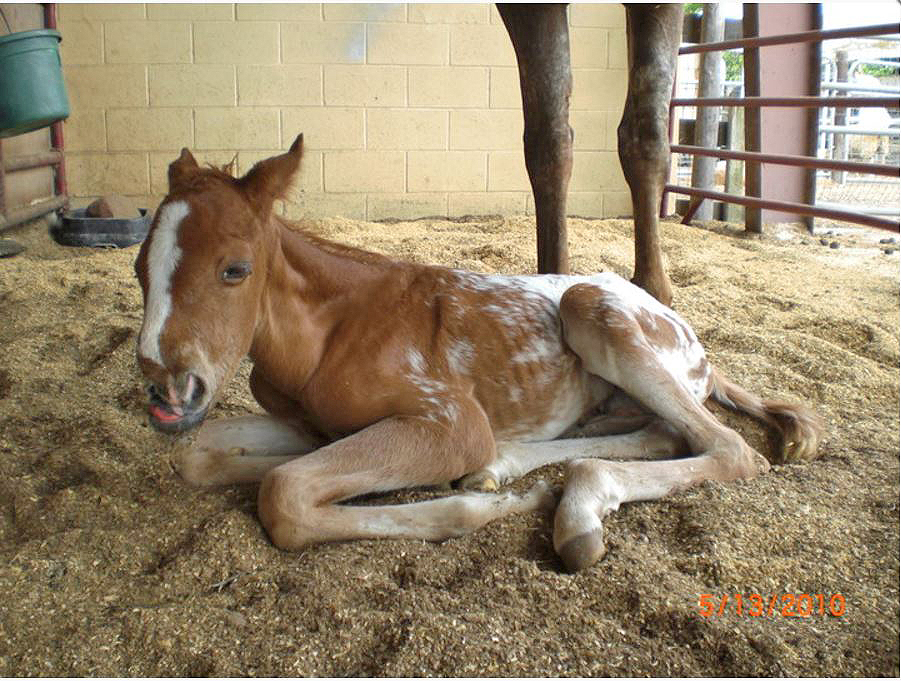 Wry nose, also known as laterally deviated rostral maxilla and associated with nasal septal deviation, is a congenital deformity generally thought to be caused by malpositioning in the mare's uterus. The upper jaw and nose are deviated, or turned to one side, with the usual result being obstruction of the airway and difficulty breathing. It is often accompanied by poor teeth alignment.
Sandy called her vet, Dr. Ashley Barnard of Barnard Equine in Hollywood, Florida, and they decided that because the foal was having trouble nursing and breathing, the vet would be out to euthanize him later that day. Unable to nurse, Sandy watched as the colt stood under his mother with his tongue sticking out catching his mother's dripping milk.
"I thought, 'This guy's a fighter,'" she said, and decided she had to try to save him.
She called the University of Florida veterinary school to learn about other options. Dr. Jeremiah Easley, a veterinarian now specializing in equine dentistry, told her that his father, Dr. Jack Easley, had successfully performed many surgeries on horses with wry nose.
Jack was able to get his mother's colostrum by catching it dripping from her, but he and his mother soon became frustrated with his inability to nurse. He quickly learned to use his tongue to slurp up a milk-replacement substitute from a bucket until the surgery was scheduled.
At four months old, Jack was transported to the Equine Medical Center in Ocala, Florida, for the seven-hour surgery. A four-inch piece of his rib was harvested to place in his nose along with three metal rods to support the nose until it fused. The surgery was a success but Jack was left with a serious heart condition, myocardial disease.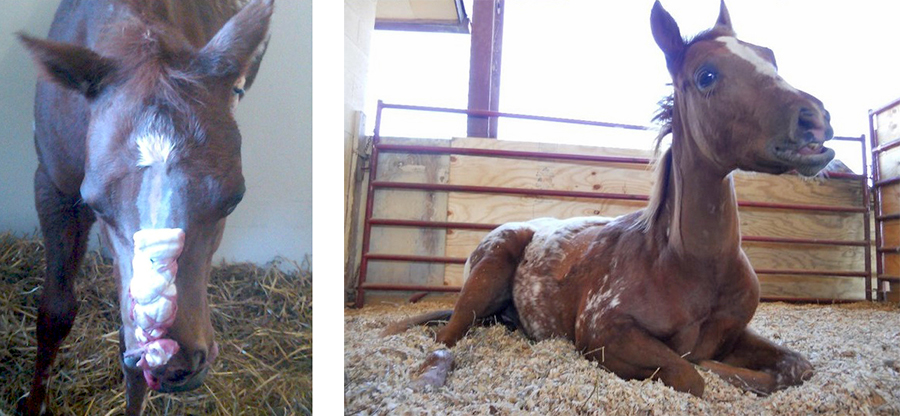 That's where Reid and Associates Equine Clinic, a full service equine hospital and referral center came in. Sandy uses the clinic for help with her horses when the facilities at Dr. Barnard's are not extensive enough for their requirements. Sandy was at the clinic for a surgery that Dr. Reid was performing on a Project Stables' mare and she told him about Jack. She wanted Jack gelded but, because of his heart problems the surgery had not been performed. Dr. Reid was up for the challenge and Jack was a changed man.
"Any time I have a problem, I call Dr. Reid," Sandy said. "He and Dr. Ashley [Barnard] work closely together."
Jack has colicked twice since the surgery and, because of his compromised nasal passages, tubing him for colic treatment is difficult. Dr. Barnard chose to refer Jack to Dr. Reid and, with Dr. Barnard's help, Jack was loaded on a trailer for the hour and a half trip north to Reid and Associates in Loxahatchee. Both times, Jack passed a large stone, or enterolith, on the way to the clinic and surgery was avoided. Enteroliths are stone-like formations in the horse's colon that can cause obstruction and colic. They are usually made up of magnesium and phosphorous and form around foreign objects like cloth, hair, gravel, metal, plastic and shavings. Sandy said she was told the stones were caused by the calcium in the alfalfa hay Jack was given as a youngster.
Jack's care remains a labor of love. Twice a day the gelding is fed his grain and then, an hour later, he is given heart medicine (Phenytoin) harvested from 20 capsules that must be opened and mixed into a solution syringed into Jack's mouth. He is also fed only timothy hay that must be soaked and checked for woody stems.
He's a favorite around Project Stable, and loves to lick people. He also loves the sheep and the pigs named Miss Piggy and Squealer at the facility.
"He's a real card," Sandy said. "He thinks he's a dog."
On Project Stable's Facebook page, there is a video of Jack's farrier, Al, working on him while Jack licks his ear and neck. "If you weren't a gelding, I might make you my wife," Al quipped, causing the video to go viral with 218,000 shares and more than 11 million views.
Next up for Jack is getting his teeth floated by Dr. Reid. Then, Sandy hopes to get the gelding trained to pull a cart.
Sandy said he has become an inspiration to the handicapped students and their parents. They have seen him transformed from a disabled horse to being whole.
"The parents tell me, 'If that horse can do it, my kid can do it,'" she said. "He gives everybody hope."