Dr. Erin Newkirk, DMV
Dr. Alexander Daniel, BVetMed, MS, MRCVS, DACVS
When Rachel Ibarra's 29-year-old Standardbred mare Warning Whistle, aka Shadow, presented with colic symptoms, she did what most horse owners do – they follow their vet's advice and engage in the best practices to alleviate the horse's pain and stress from colic.
Dr. Bruce Lowry, Shadow's veterinarian in Jupiter, Florida, came out to treat her and they thought the mare was improving.
"We followed the protocol and she seemed to rally for a little while," said Ibarra, who is the executive director at Nature Speaks, Inc., a non-profit organization in Jupiter Farms, Florida, that offers educational and empowerment programs with horses. But, when Shadow's baby [who is now 20-years-old] went out for a ride without her, Shadow became upset and started running. "After a while, she laid down and didn't want to get back up."
When the colic symptoms returned, they decided to take Shadow to Reid and Associates Equine Clinic and Dr. Erin Newkirk was on hand at the clinic to receive the mare.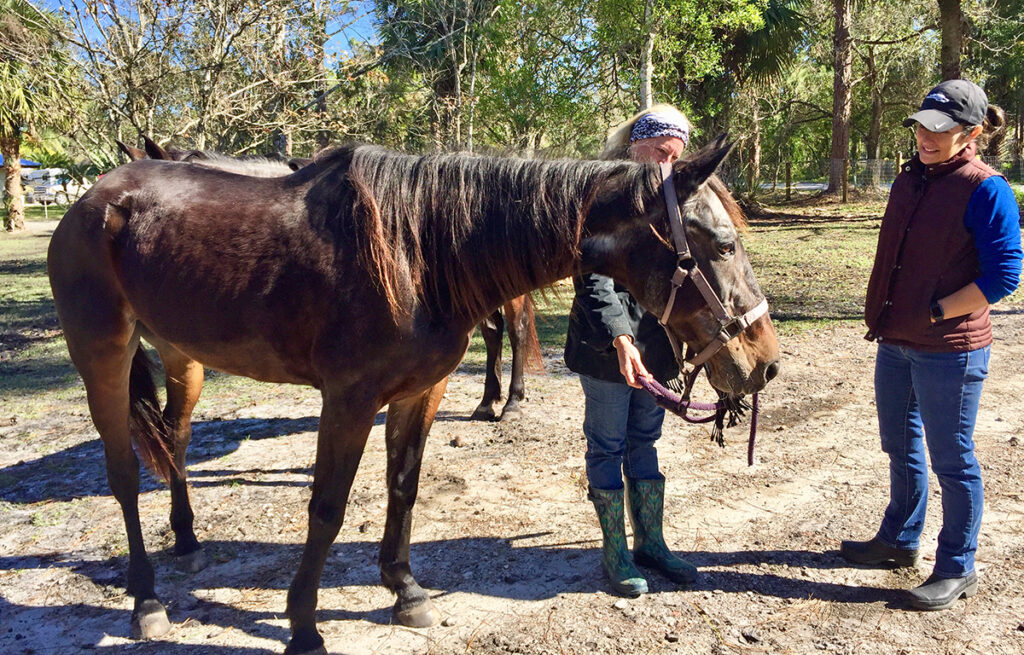 Dr. Newkirk was struck by the otherwise excellent health of the horse. "Shadow was the best-looking version of a horse that age I have ever seen," she said. "She is an example of a horse in good health no matter what her age."
Soon after admission to the clinic, it became clear that Shadow was not improving with typical medical therapies and that surgery was likely necessary to save her life.
Shadow's age was not a significant limitation in the vets' recommendation to perform colic surgery because, physically, she was in such great shape. Ibarra agreed and the team at Reid and Associates began to prep the mare.
What Shadow's surgeon, Dr. Ali Daniel, found during surgery was a large rock-like formation in her colon called a fecalith. Fecaliths are hard, stony masses of feces in the intestinal tract which can cause obstruction in the small or large colon resulting in colic and reduced manure output. The fecalith generally forms around an initial bit of indigestible plant material or a small foreign body, such as thread or a string. When they cause obstructions, they are usually located at the narrower portions of the gut, at the pelvic flexure, small colon and transverse colon. The severity of clinical signs depends on the degree of obstruction.
After a successful surgery and recovery period, Shadow was sent home on 60-days stall rest.
Iberra said she was tolerant of being in the stall the first 30 days. "I think she knew she needed the recovery time," she said. "She did not want to be in the stall the second 30 days. We hand-grazed and hand-walked her and we gradually increased the time out of the stall. Dr. Newkirk said that after the 60 days she could go back to doing what she used to do."
Now, Shadow is back at work, carrying special needs riders around and enjoying her work. Iberra said the mare is eating more now than she has in years and she is happy to be doing what she loves.
"Her recovery was so amazing and she's back to being ridden," Iberra said. "It was scary for me because I've had horses that colicked but I've never had to do surgery.
I asked if she was going to go back to normal and they were very positive about it. She's back to riding and running and cantering and playing and doing all the things she did before. It's a miracle."
Iberra is thankful to the entire team at Reid and Associates who cared for Shadow, but she's especially grateful to Dr. Newkirk.
"She's amazing," she said. "Her temperament is spot-on, her knowledge is amazing and the confidence that she was able to instill in us that Shadow was going to get through it at 29 years old was a miraculous thing. We put all our faith in God, the horse and the doctors and it worked out just fine.